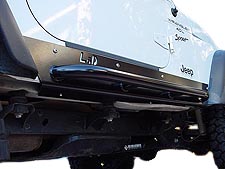 LoD Genuine Equipment
Here's a pic of the LoD Rocker Guards

Clean the inside surface of your LoD Rocker Guards and then apply the Tough Stuff Rocker Guard Gasket material to it

Using an X-acto or flat razor blade, trim out the holes and excess gasket material from the edges of your LoD rocker Guards
Remove the front fender extensions and the rivets left behind from the body of your Jeep
Place and hold your new LoD Rocker Guard up to the side of your Jeep using a floor jack and 2x4s
Mark the location of where you will be drilling using a center punch
Drill the body mounting holes using a 3/8" metal drilling bit
Loosely fasten the Lod Rocker Guard to the side of your Jeep using the stainless steel allen bolts, fender washers and nuts.
One of the bolt will need to be accessed from under your Jeep just behind the fender
Using your LoD Rocker Guard as a template, drill the two 3/8" hole on the bottom side of your tub.

Secure the bottom of your LoD Rocker Guard to your tub using the bolts, washers, spacers and nuts supplied with the guards
LoD Heavy Duty Jeep TJ Wrangler
Rocker Guards w/Tube Steps
---
LoD Heavy Duty Rocker Guards are the perfect compliment to your Jeep TJ's LoD Rear Bumper/Tire-Carrier and/or Front Bumper. Like all of the awesome products LoD makes, these guards are tough, made to protect your Jeep and affordable. These rocker guards come with tube steps and a durable semi-gloss black powder coat finish as standard equipment.


What You Need
---
• LoD Jeep TJ Wrangler Rocker Guards w/Tube Steps
• 1/2", 9/16", Socket & Wrenches
• 7/32" Allen Wrench
• Ratchet
• Power Drill
• 3/8" Metal Drilling Bit
• Center Punch
• Hammer
• Pliers
• Floor Jack
• Safety Glasses
• 8 - 3/8"x1" Stainless Steel Button Head Allen Bolts
• 8 - 3/8" Stainless Steal Nuts
• 8 - 3/8"x1-1/4" Fender Washers
• Tough Stuff Rocker Guard Gasket Material
• X-acto or flat Razor Blade
• 2x4 Piece of Wood


Installation
---
Although LoD provides all the necessary hardware to install their rocker guards, I decided that I wanted my finished product to look a bit cleaner. So, I headed down to my local hardware store and pick up some stainless steel button head allen bolts, nuts and wider fender washers. I also decided to be smart this time around and bought some Tough Stuff rocker guard gasket material from Mesa4x4 to protect my Jeep from the sand and grit that can get trapped in between the guards and tub. It's your Jeep but these simple additions will make for a much better and cleaner install. Just something to think about. On to the write-up...

1. Okay, first things first. Take your new LoD Rocker Guards and thoroughly clean the inside (the side that will be in contact with your tub) surface using alcohol or plain water and a rag. Make sure there is no dirt or oil residue left behind.

2. Unroll your Tough Stuff gasket material, peal the backing off of one end a bit and carefully affix it to the inside of your LoD Rocker Guard. Slowly, continue to peal the backing off and press the gasket on trying to be mindful of bubbles.

3. Using an X-acto or flat razor blade, trim off the excess Tough Stuff gasket material from the edges of your LoD Rocker Guards as well as the mounting holes and "LoD" cut out. Also, if you discover any air bubbles caught in between the gasket material, simply make a small incisions with your razor and press out the air.

4. On to your Jeep. If you have factory side steps or Sahara rocker trim, you will need to remove them at this time. Also, remove the front fender extensions from your tub and then extract the 3 rivets using a pair of pliers.

5. Place your new LoD Rocker Guard up against the side of your Jeep and support it in place with the help of a floor jack and 2x4 pieces of wood. Take care to position the guards carefully making sure they sit flush against your tub.

6. Using your LoD Rocker Guard as a template, mark off the holes you will need to drill out using a center punch and hammer.

7. Take a look inside your Jeep and fold back the carpet so that it doesn't get in the way of anything. Also make sure that nothing is along the inside edge of your tub (i.e. factory jack crank, CB cable, etc.) that might get damaged when you start drilling. Now, using a hand drill and a 3/8" metal drilling bit, drill out the 4 mounting holes on the side of your tub.

8. With your fingers, loosely fasten the Lod Rocker Guard to the side of your Jeep using the stainless steel allen bolts and fender washers and nuts on the inside. The forward most bolt will need to be accessed from under your Jeep just behind the fenders.

9. Now, climb under your Jeep, mark off your bottom mounting points using a center punch and hammer and then drill these holes out as well.

10. Secure the rocker guard in place with the Grade 5 bolts, washers and nuts provided by LoD using a 1/2" socket and wrench.

11. Secure all the side bolts to your tub using a 7/32" Allen wrench and a 9/16" standard wrench.

12. Lower your floor jack and then repeat steps 4-11 on the opposite side of your Jeep.

That's it, you're done!! What a total piece of cake job right? Your Jeep's rockers are now armored up and provide a convenient step for the shorter people in your life :)

That's it. Please let me know if you have any questions.


Additional Photos
---
As Stated By LoD
---
LoD rocker guards are built to tackle the toughest terrain around. Each LoD rocker guard is manufactured out of 3/16" laser cut steel for maximum protection for your jeep. These guards are also a great way to cover up existing body damage. LoD rocker guards are available with or without 1 3/4" tube side steps to best fit your needs and application. All rocker guards are POWDER COATED black and include all hardware for easy installation.


NOTE: This write-up has been provided as a reference only. 4x4xplor.com and/or its author are not responsible for any errors, incorrect or missing information. LoD is solely responsible for the quality of all their products.