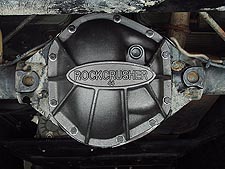 RockCrusher Dana 44
Differential Cover
What You will Need
---
•
RockCrusher HD Differential Cover
• 4 Quarts - Synthetic SAE 80W-90 GL5
• Permatex RTV
• 12 Point - 1/2" Socket
• H-14 Hex Bit
• 3/8" Ratchet
• Torque Wrench
• Flat Wood Chisel
• Hammer
• Gasket Scraper
• Floor Jack
• Jack Stands
• Wheel Chocks
• Bottle Pump
• Brake Cleaner
• Paper Towels
• Oil Pan
• Newspapers
• 1 Gallon Milk Jug
Post Installation Notes

---
A couple of things I'd like to note is that the bolt holes on the RockCrusher cover is very exact and leaves little room for error. Need I say, threading in all the bolts can be a bit of a challenge especially when you arm starts to get tired of holding up a very heavy differential cover. Don't get discouraged though, I guarantee all the bolts will thread on.

The other thing I should point out is that the space between the bolts and where the differential cover starts to bulge is very tight. However, a 12 point 1/2" socket should be thin enough to get around it.

UPDATE 12/07/05:
I just got my RockCrusher Dana 30 cover installed and you can see my write-up for it by clicking on the link below:

RockCrusher Dana 30
Differential Cover
RockCrusher Heavy Duty Dana 44
Differential Covers

---
When you're ready to get serious about protecting your differentials from mean rocks on the trail, look no further than RockCrusher. Their covers are extremely well built, super beefy, affordable, have a machined mating surface for a flat fit, look fantastic and unlike their competition, RockCrusher Heavy Duty Differential Covers can support the weight of a 110,000 lb. excavator!! Need I say more?


Installation
---
Here is a pic of what you will get with your new RockCrusher heavy duty differential cover. This particular cover is for a Dana 44 and when I bought mine, they were giving away a free tube of Permatex RTV as part of a promotion. Rockcrusher also makes a Dana 35 and Dana 30 model and if you have a Dana 35, click on the link below to see Kizer's write-up for reference:
RockCrusher Dana35 Differential Cover
In order to install your new RockCrusher differential cover, you will basically need to do a complete differential fluid change. To find out how to perform this service, click on the link below and follow steps 1-6 before returning to this write-up:
Jeep Differential Fluid Change Write-Up
1. Okay, with your factory differential cover off, drained and old gasket material cleaned off the mating surface, (if you were following my write-up, this would be step 7) it's time to start preparing your new RockCrusher differential cover. To begin, thoroughly clean the mating surface with some brake cleaners and then wipe it down with paper towels.
2. Apply a continuous 1/4" bead of RTV along the mating surface of the RockCrusher differential cover as shown in the pic to the right. Then, carefully place it onto your differential making sure not to move it around too much.
3. Fasten the new RockCrusher differential cover in place using the bolts that come with the kit. Make sure to bolt them on in a criss cross pattern and then tighten them to 25-30 ft. lbs. of torque. It is very important that you do NOT over torque these bolts and that installation of the cover should be done within a 5 minute after applying the RTV.



4. Now, fill up your differential with the appropriate gear oil recommended for your axle. I have a Dana 44 rear end with a Trac-Loc which requires a special friction modifier to work properly. Most synthetic gear oils like Valvoline make already have it mixed in. Using a cheap bottle pump ($2 at PepBoys) will make it a lot easier to do this task. Fill your differential with the proper amount required. DO NOT overfill your differential or else you will have problems with gear oil being pumped out of the axle breather tube. Then, using an H-14 hex bit, install the new fill bolt provided with the RockCrusher differential cover. Tighten this bolt to 25 ft. lbs. of torque.
That's it! This is what everything will look like when all is said and done. Not only will your axle look great, your differential will be well protected from the rocks!

Please let me know if you have any questions and don't forget to take your old gear oil to your local recycling center (PepBoys, Autozone or the like).
---