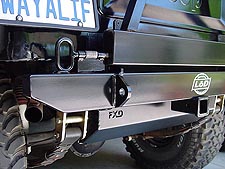 Here's a pic of all the pieces you will get with your LoD bumper/tire-carrier

This is what the frame tie-in reinforcement bracket looks like. The brackets have been stamped with the letters "P" for passenger and "D" for driver side

If you have a factory swingout tire-carrier and/or bumperetts, remove them now

Using an 5/8" socket and wrench, remove the bumperette frame support bracket bolts and nuts

Loosely attach the frame rail tie-ins re-enforcing brackets to the frame and rear cross member using the hardware supplied with the bumper

Using a 5/8" socket, remove only the rear most shackle mount bolt from the cross member

With the help of a friend, hold up your new LoD bumper up to the rear cross member and attach it to the frame using the shackle mount bolt you removed earlier. Do not torque this bolt down at this time

Using a 5/8" and 11/16" wrench, fasten the bumper to the rear cross member and frame rail tie-in re-enforcing bracket

Here's what your bumper will look like once installed
Hold the A-frame hinge over the bumper hinge pin, place a piece of wood over it and then tap it on using a 3 lb. hammer
By hand, adjust the rubber bumpstop on the A-frame to a point where a slight amount of pressure is applied to the tailgate when closed. This is important to prevent any movement and rattling. Lock it in place using a 9/16" wrench
Adjust the tire mount so that your tire will make firm contact with the A-frame once in place and then bolt it in place using a 1/2" socket and wrench
This is what your new LoD bumper/tire-carrier will look like once it has been installed
Here's a look of what your Jeep will look like when all is said and done
Here's a shot of how it works
Closer shot of the LoD bumper
This is a close up of the LoD slam latch and D-Ring mount
LoD Heavy Duty or Xtreme Duty
1976-86 Jeep CJ Rear Bumper
& Swing Away Tire Carrier
---
Sooner or later, just about every Jeep owner gives their rig a lift and with a lift comes bigger tires. It's just inevitable. Only problem is, what do you do about carrying a full size spare? Well, the previous owner of my CJ thought he could mount a 35" tire on the stock carrier without any problems. I say thought because that tire eventually took the whole carrier right off the tub leaving a gapping hole in the passenger side rear quarter panel.

The solution? Install a heavy duty rock bumper with a swing away tire carrier. Get the weight off your tub and onto your frame. Unfortunately, most good setups being sold today will set you back about $500-$600 + shipping. That's where LoD comes in. LoD is an upcoming manufacturer of heavy duty bumpers, rocker guards and other Jeep accessories who's goal is to provide their customers with the highest quality products but at a price they can afford. I can tell you first hand that the LoD Heavy Duty Jeep Rear Bumper/Tire Carrier system is extremely beefy and well built. The black powder coating is superb, it can hold up to a 37" tire, has two shackle mounts, a trailer hitch and it's 100% rattle free. The best part.... it costs a lot less than the competition out there today!!



UPDATE 01/01/2006:


LoD is now selling its new Xtreme Duty Jeep CJ Rear Bumper/Tire Carrier for just a bit and it's made out of 3/16" thick steel, has an integrated hitch receiver and a Hi-Lift mount.


What You Need
---
• LoD Heavy Duty Jeep CJ Rear Bumper/Tire Carrier
(or) LoD Xtreme Duty Jeep CJ Rear Bumper/Tire Carrier
• 1/2", 5/8", 9/16", 11/16" Sockets & Wrenches
• Ratchet
• Torque Wrench
• White Lithium Grease
• 3 lb. Hammer
• Wooden Board or Block
• PB Blaster


Installation
---
1. Open up your boxes and make sure you have the bumper, A-frame tire carrier, tire mounting bracket, frame rail tie-in re-enforcing brackets and hardware. If you are missing anything, now is the time to figure things out. DO NOT assemble the A-frame section onto the bumper at this time.

2. Begin this project by removing the factory swingout tire carrier from your tub and the bumperetts from your rear cross member. When I bought my CJ, I had neither so I can't tell you what size wrenches you will need to use.

3. If you have them, remove the bumperette frame support brackets that are attached to your frame rail (see pic to the left). There should only be one bolt and nut per side and 2 on the rear cross member. you will need to use a 5/8" socket and wrench to remove them.

4. Loosely attach your new LoD frame rail tie-in reinforcement brackets to the rear cross member and frame. Because so may CJ's are rusted out back here, LoD has provided brackets are longer then they need to be. If you are in need of using the 3rd bolt and nut, you will need to drill your frame to accommodate it.

5. Remove the rear most shackle mount bolt only using a 5/8" socket. Depending on where you live in the U.S., you may want to apply some PB Blaster to this bolt ahead of time and use a breaker bar to free it.

6. Remove the rear cross member bolts you loosely attached earlier in step 4 and then carefully lift up your new LoD bumper and attach the lower frame rail brackets to the base of the shackle mount using the bolt you removed in step 5. An extra set of hands to help you out is useful here but not required. Tighten the bolts enough to hold things in places but do not torque them down at this time.

7. Using a 5/8" socket and wrench, fasten the bolts securing your reinforcement bracket to your frame rail. Then, using a 5/8" and 11/16" wrench, fasten the bolts and nuts attaching the brackets to the rear cross member.

8. Apply a small amount of white lithium grease the the LoD hinge pin, hold your A-frame hinge over it at about a 90° angle to your bumper, place a wooden board over the hinge and tap it on to the pin all the way down using a 3 lb. hammer.

9. Grab the rubber bumpstop provided with this bumper and thread it on to the A-frame by hand. Adjust this bumpstop until it pushes on the tailgate with enough pressure to prevent any movement or rattling. Use a 9/16" wrench to lock it down from behind using the nut supplied. (NOTE: there are 2 different mounting hole on the A-frame. the lower location is for a Jeep without a body lift and the upper location is for a Jeep with a 1" body lift)

10. The spare tire mounting bracket that comes with the LoD Xtreme Duty Bumper Tire Carrier is adjustable to accommodate wheels with different back spacing. Be sure to mount this bracket onto your A-frame so that when all is said and done, the rubber sidewalls of your spare tire presses firmly against it when secured in place with lug nuts. If it doesn't, relocate the mounting bracket back a hole or until a tight fit is achieved. A 1/2" socket and wrench will be needed to fasten the 5/16"x2-1/2" bracket bolt.

IT IS CRITICAL THAT YOUR SPARE TIRE MAKES FULL CONTACT AND PRESSES FIRMLY AGAINST THE A-FRAME. FAILURE TO DO SO WILL VOID YOUR WARRANTY



11. Attach your spare tire to the tire mount.

12. Last but not least, lube up your latch pin and spring with with some white lithium grease or other spray on lubricant to help insure its ease of use. Re-apply lube to this area on a regular basis.

That's it, you're done!! Your CJ now has an awesome new LoD bumper/tire-carrier on it.



Post Installation Notes
---
I have been using this exact bumper tire carrier on my TJ for almost a year now and can tell you that I absolutely love it. It looks great, works flawlessly and is in fact completely rattle free. This thing has been every bit a good as, if not better than most high priced name brand tire carriers out on the market today.... but, sells for about half the cost.

01/05/05
It has come to my attention that people who live in areas with a lot of rain or salted roads may experience a sticking latch pin due to rust. I would recommend that regardless of where you live, please make sure to keep this latch pin and spring lubed on a regular basis with some white lithium grease or other spray on lubricant to help prevent rusting.


FAQ's
---
Q. What gauge steel is the LoD bumper made out of and how much does it weigh?
A. The LoD bumper is made out of 11 Gauge Steel and it weighs about 65 lbs.

Q. Does the trailer hitch have any safety chain mounts?
A. Yes, as you can see in the pic to the right, there are two flanges with holes drilled into them for safety a chain to hook up.

Q. Does the LoD bumper come with frame tie-ins?
A. This bumper requires you to drill new mounting points just inside of the frame rails. These new mounting points are significantly stronger than the factory points which are located on the ends of the rear cross member. LoD bumpers also come with two additional straps that tie into the frame rails using factory mounting holes.

Q. Does LoD make a matching front bumper, trail rack, jerry can and/or Hi-Lift mounts?
A. Not as of yet but plans are in the works to produce these items very soon.

Q. Where can I find out more information about LoD? Do they have any catalogs or website I can visit?
A. LoD is an upcoming manufacturer of Jeep parts that I am trying to help out. For now, the only information available is what you see here on my website.

Q. How long will it take for me to get my LoD bumper/tire-carrier?
A. Typically, your order will take anywhere between 5-7 working days to process and 7-10 working days to deliver via UPS Ground Service.

UPDATE 10/01/05: LoD is currently very backed up and orders are taking about 4-5 weeks to process. Once completed, shipping will take approximately 5 working days to deliver.

Q. I do not have a PayPal account, can I still pay by credit card?
A. Yes. LoD can accept Visa, Master Card and American Express through PayPal. You do not need to have a PayPal account to pay by Credit Card. LoD will also accept payment by Money Order.

Q. Is the LoD bumper really 100% rattle free?
A. Yes. The A-frame section on the bumper has a metal flange that pushes up against your tailgate rubber isolator to create a snug fit. Some slight trimming of the rubber isolator may be required to allow for proper closure.

Q. Is LoD and 4x4xplor.com affiliated with each other?
A. 4x4xplor.com and LoD are friends and I help them sell their products. In turn, LoD gives a small percent back on every item sold through this website to help support its existence.


Additional Photos
---
As Stated by LoD
---
FINALLY, a tire carrier that can hold up to a 37" spare for your TJ and YJ or CJ-7 – at an affordable price. LoD Jeep Tire Carriers are built to withstand the harshest conditions that today's off-road enthusiasts can put them through. LoD tire carriers feature two (2) double sealed ball bearings that are pressed into the top A-frame – creating a very strong, very tight fit around the 1" solid steel pin, fully welded into the bottom bumper. Additionally, every LoD Tire Carrier features an innovative heavy-duty self-latching slam latch with a 5/8" steel locking pin. The bottom bumper is equipped with two (2) CNC laser cut clevis mounts that are fully welded to withstand the off-road punishment. The top tire holder is fully adjustable to accommodate wheels with different backspacing. All LoD tire carriers come with a 2" Receiver welded to the bottom of the bumper and gussets – and welded to the back for extra bracing and trailer safety chains. Fully POWDER COATED black for a long lasting, durable finish. Each LoD Tire Carrier mounts to existing holes on the bottom of the frame on TJ and YJ's and also to the cross member on the back of the frame for a very secure fit. The LoD Tire Carrier package includes cross member strengthening brackets (for TJ and YJ's) and the CJ-7 Kit includes frame tie in brackets. All bolts are included except for the bottom two bolts of the frame – due to varying sizes. (98 and newer TJ's require four, ½" holes to be drilled in the cross member) MADE IN THE USA.

NOTE: This write-up has been provided as a reference only. 4x4xplor.com and/or its author are not responsible for any errors, incorrect or missing information. LoD is solely responsible for the quality of all their products.