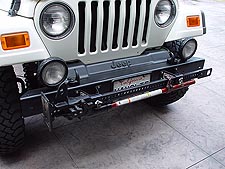 Hi-Lift Jack 4XRAC
This is a pic of everything that comes with the kit.

If you have factory rubber bumper pads, these will need to be removed in order to install the 4XRAC.

If you have them, remove the nut securing your fog lights using a 13mm wrench.

Once the nut is removed, simply lift off your fog light and let it hang.

Using a Torx T-55, remove the 4 upper bumper bolts (2 on each side) which also secure your tow hooks if you've got them.

Remove the 2 lower bumper bolts (1 on each side) using a Torx T-55

Remove the nuts securing your bumper pads using a 13mm deep socket.

With the nut removed, your bumper pads will come off with ease.
Lay your 4XRAC and Hi-Lift Jack out on your bumper and position it to where you will ultimate want it to be.
Mark out where you will locate your 4XRAC brackets using a marker or pencil.
Use a center punch and hammer to mark the locations of your drilling points.
It's a good idea to drill a set of pilot holes before drilling your actual mounting holes.
Drill your mounting holes using a 5/16" metal drill bit.
Attach your new 4XRAC using the hardware provided and then re-assemble your bumper onto your Jeep.
It may be tiny, but a small lock can be used on both stud mounts to help deter any would be thieves.
This is what your Hi-Lift Jack should look like mounted onto your Jeep's front bumper using the 4XRAC.
Hi Lift 4XRAC Bumper Mount
---
A Hi-Lift Jack is one of the best trail tools you can own and something every Jeep owner should have. They are affordable, versatile and virtually essential if your Jeep is lifted. The only real draw backs of this great tool is that it's big, bulky, weighs a ton a quite dangerous to use if not used with extreme care... but i digress. One of the biggest issues with owning a Hi-Lift Jack is of course, how do I bring it along with me? That's where a Hi-Lift 4XRAC comes in. Cheap and easy to install, a 4XRAC will allow you to carry your Hi-Lift Jack out on your bumper.


What You Will Need
---
• Hi-Lift 4XRAC
• Metric 13mm Deep Socket & SAE 7/16" Socket & Wrenches
• Torx Bit T-55
• Ratchet
• Hand Drill
• 1/8" & 5/16" Metal Drilling Bit
• Drilling Oil
• Safety Glasses
• Sharpe or Pencil
• Center Punch
• Hammer
• PB Blaster
• Breaker Bar
• Small Locks


Installation
---
1. If your Jeep is still wearing the factory rubber front bumper pads, you will need to removed them in order to install your new 4XRAC Hi-Lift Jack mounting brackets. Unfortunately, the only way to this is to completely remove your front bumper from your Jeep. So, before you get started, make sure that you have all the tools you'll need ready to go and that you in fact have metal drilling bits.

2. If you have factory fog light like my Jeep has, these will need to be removed prior to pulling your bumper off. To do this, you will need to look underneath the inside of your bumper and remove the single 13mm nut securing the fog light. With the nut off, simply lift up your fog light and allow it to dangle from it wiring harness.

3. Using a Torx T-55 Bit, remove the 4 upper bumper bolts (2 on either side) which also secures your tow hooks if you've got them. If you've never removed these bolts before, it may take some effort to do and stripping a Torx head is nothing but bad news. Try applying some PB Blaster to the bolts and use a breaker bar to crack them loose.

4. Now, look underneath your bumper and remove the 2 bottom bolts (1 on each side) using the same Torx T-55 Bit. Again, pay special attention to not strip the head of the bolt. PB Blaster and a breaker bar should do the trick well.

5. With all the bolts removed, your bumper should slide off the frame with ease. Place it on the ground or on a work bench face down so that you can access the rubber bumper pad fastening nuts.

6. Using a deep 13mm socket or a standard socket with an extension, remove the 2 nuts securing each of the bumper pads to the bumper.

7. Turn your bumper over and if the bumper pads didn't already fall off, they should come off with very little effort.

8. Now, position your new 4XRAC mounting brackets on the face of your bumper and then place your Hi-Lift Jack on top of them like it would when everything is installed. If you don't care about details, you can just slap them anywhere you want but I like a mod to look like it was meant to be there so I took the time to measure everything off. Specifically, I made sure that the Hi-Lift Jack would look centered when all was said and done. I also made sure to locate the 4XRAC brackets a little higher up on the face of the bumper (top edge of the brackets 3/4" down from the top of the bumper) so that little to none of the actual jack would hang below the base of the bumper.

9. With the Hi-Lift jack in position on top of the 4XRAC brackets, take a marker or pencil and mark off where everything needs to be.

10. Carefully remove the Hi-Lift Jack, 4XRAC brackets and then mark your drilling points with a center punch and hammer.

11. Drilling through steel can be a bit tricky with a large drill bit so I always like to make a small pilot hole first. For this particular job, I used a 1/8" metal drilling bit to do it.

12. With all your pilot holes drilled, come back and drill them out using a 5/16" metal drilling bit. The use of a drilling oil will make the job a lot easier and quieter.

13. Clean up your drilling mess and then bolt up your new 4XRAC mounting brackets to your bumper using the hardware supplied with the kit. You will need a 7/16" socket and wrench to do this.

14. Place your front bumper back onto your Jeep's frame and bolt it back on. Torque the bolts to 80 ft. lbs.

15. Re-attach your fog lights if you have them and took them off.

16. Place your Hi-Lift Jack onto the 4XRAC, slip on the retaining brackets and then fasten everything in place using the wing nuts provided.

17. You should notice that the threaded studs on the 4XRAC brackets have holes drilled through them. These are provided so that you can lock your Hi-Lift and prevent it from being stolen. Granted, the only kind of locks that will fit through them are really tiny, it should provide enough of a deterrent for most would be thieves.


That should be it. Please let me know if you have any questions.